Medieval woollen tunic Xth XIth XIIth XIIIth centuries
100 % wool thick fabric
Colour: grey
Touch: very soft
Fabric weight: 420g / m ²
Size: choose your size in the menu (loosely worn garment)
This medieval tunic is made according to historical sources and assembled with great attention to detail.
Gussets and gores: rhombus shaped gussets under the arms and triangular gores at the hips.
A fine stitch has been used on the collar, the sleeve hems and bottom hems which are hand sewn.
This tunic is not slit.
This quality tunic will give you complete satisfaction and will provide you with an accurate historical look.
Think of choosing a leather belt or woven belt to go with...
The tunic is the over garment, it goes on top of the shirt.
The tunic is sold separately, without accessories.
Care tips:
- Remember to preserve your garment from moths, as they love wool!
- Your garment has benefited from an anti-moth treatment, but over time, think that its effectiveness will fade.
- Do not store your garment roll into a ball in your bag, fold it.
- Hand wash with cold water only, with a mild liquid soap, such as Woolite or Mir wool.
- Dry flat on a bath towel, away from a heat source.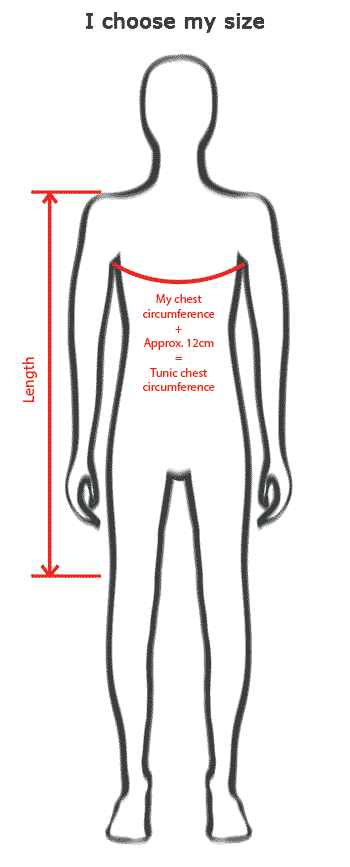 Exemple:
My chest circumference is Ø 93cm.
I add about 12cm to have a loose tunic.
93cm + 12cm = Ø105cm.
I chose a tunic with a chest circumference of Ø105cm + or - 4cm.